Meet Dr. Chris Elleraas
Chiropractic Allowed Me To Walk Again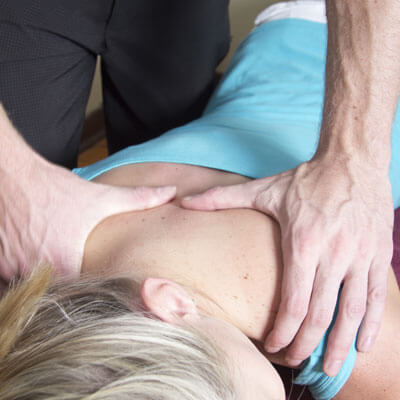 On the high school football field is where Dr. Chris Elleraas began his chiropractic path. After football practice one day he could barely walk due to a compressed nerve in his back, shooting pain into his leg. He is fully aware of the devastating effects of not being aligned and pressure on his nerves. His parents after bringing him to many doctors brought him finally to a chiropractor and the rest is history…his chiropractic career was born!
My Chiropractic Journey
Dr. Chris is not a native of San Diego; born and raised in Fargo, North Dakota, he can truly appreciate San Diego's great weather and beauty. After graduating from high school, Dr. Elleraas went on to pursue his pre-chiropractic Bachelor of Science degree in Biology at San Diego State University. After SDSU he relocated to Whittier, California where he attended Southern California University of Health Sciences formerly known as Los Angeles College of Chiropractic (LACC).
Learning to Love Gonstead
During college he became passionate about specific adjusting methods and discovered the Gonstead Method, he's attended countless educational seminars and served as president of the Technique Club. Upon graduation Dr. Chris served additional internships under the guidance of many mentors. Through their recommendation, Dr. Chris began his private practice in the San Diego-Carmel Valley area over twenty-one years ago.
He began Carmel Valley Chiropractic performing the Gonstead method exclusively and now, with much clinical experience, he brings his unique ability to locate, correct, and prevent misalignments in the human body. His specialty and passion is restoring people back towards health. Where health is everything. He understands the true value of being healthy and wants to help you restore you to your fullest expression of health, mind body and soul!
Explore Chiropractic
Outside of the Office
Dr. Chris also lives in the Carmel Valley/San Diego area with his wife Nicole, daughter Ava, and son Ethan. Dr. Chris enjoys numerous outdoor activities especially golf, running, biking, reading and fly fishing in the Northern Sierras.
Dr. Chris is passionate about life, and is passionate about teaching, educating and informing you about the value and necessity of restoring your nervous system to normal with chiropractic care. He has committed himself to helping all patients reach a level of maximal health through the detection and correction of interference to the nervous system.
Book Your Appointment Today
Contact us so we can help you, your family or friends take the first step towards better health.
---
Dr. Chris Elleraas | (858) 792-9000